Use the booking form below to make a reservation request. Christmas Packages available 1st November to 31st December.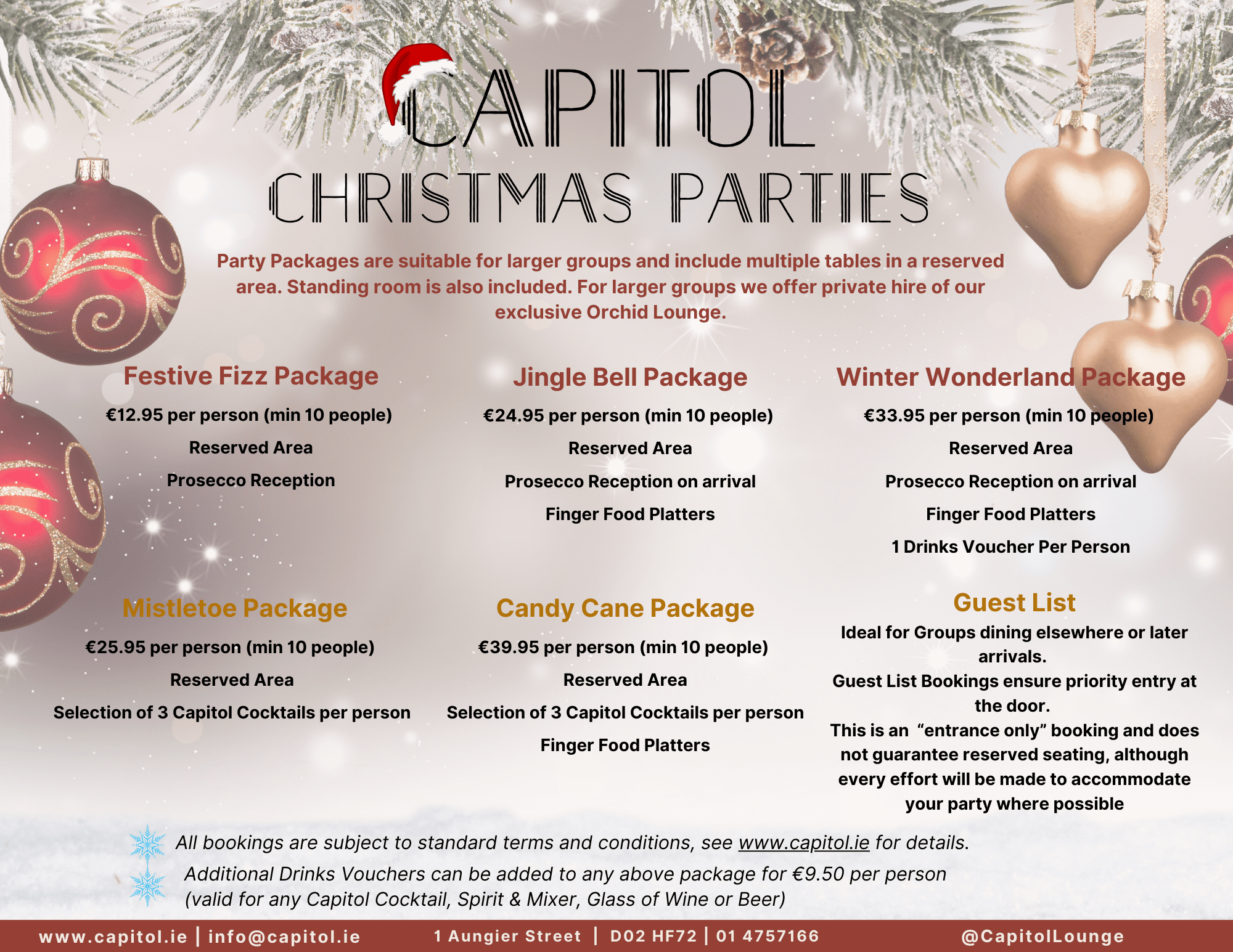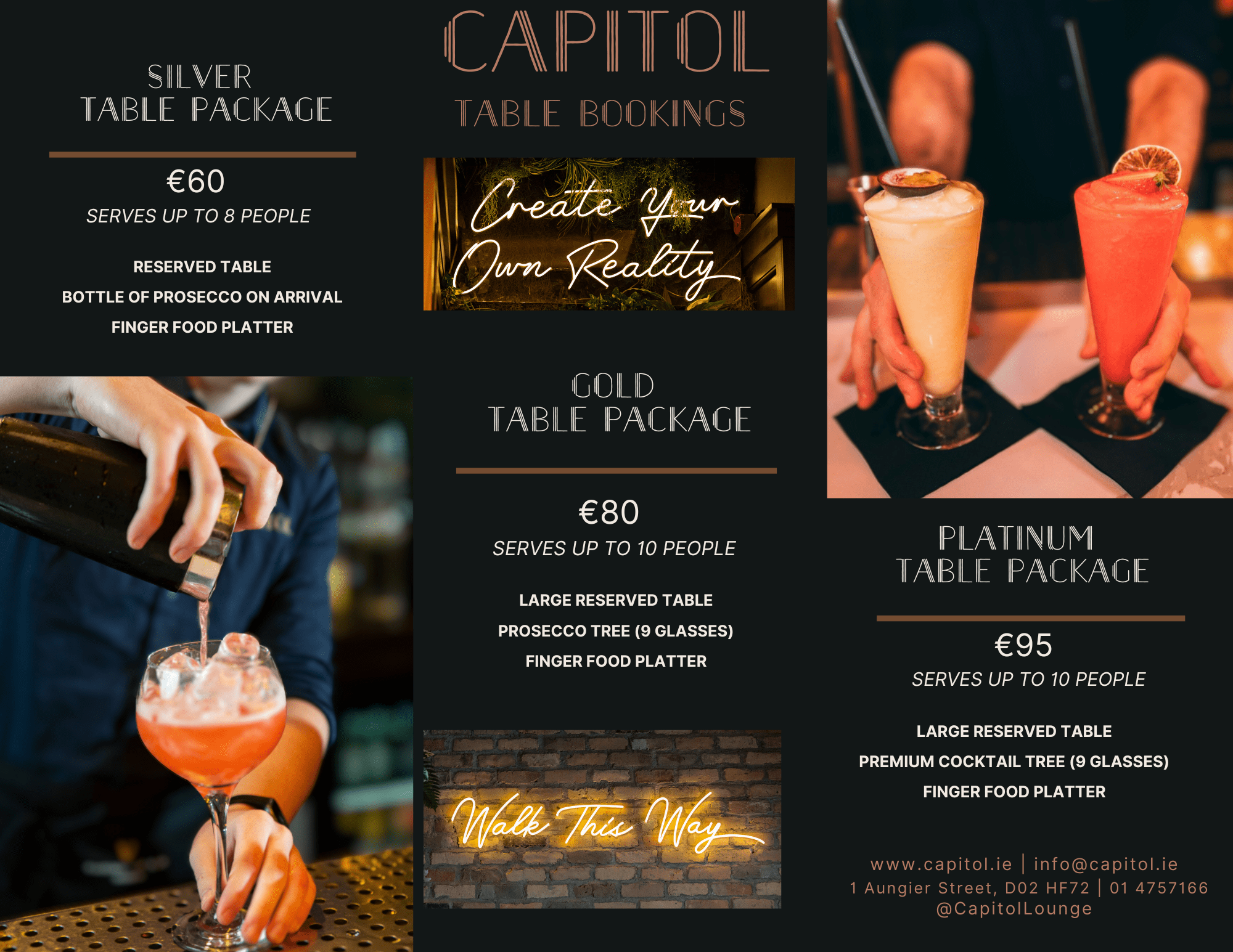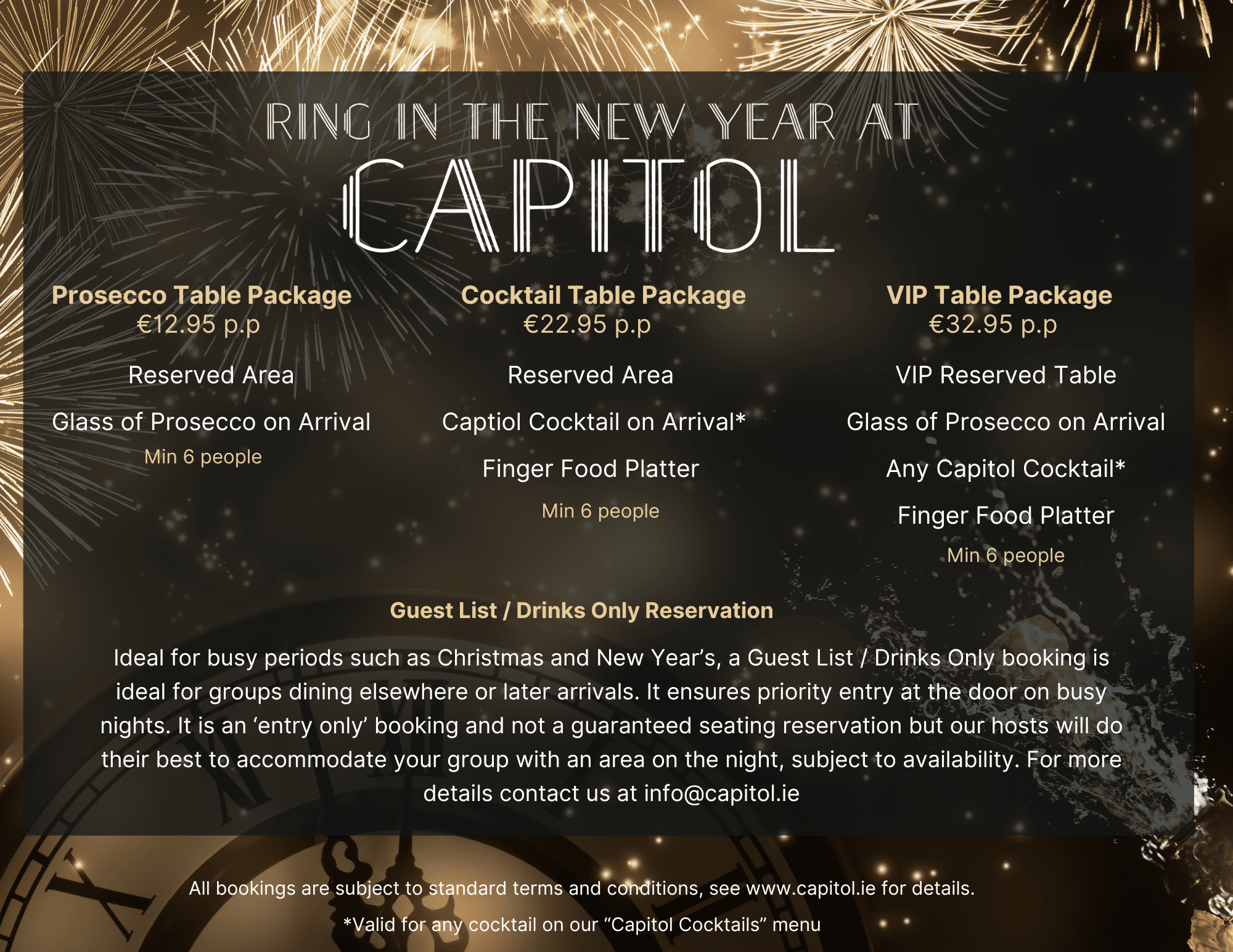 Reservations are NOT needed, walk-ins are always welcome.
Minimum booking size on Fridays and Saturdays is 6 people, for smaller groups walk-in tables are available all night.
To make a reservation please fill out the form below and a member of our Management team will get back to you within 24 hours. A reservation is not confirmed until we send a specific confirmation email. Please note Guest List/ Drinks only bookings are 'entry' bookings only and a seating area is only available subject to availability. Seating areas are only guaranteed with table or party package bookings.,
View/Cancel a Reservation
Booking Conditions:
Reservations are not confirmed until a specific confirmation email is sent by Capitol Lounge. Reservations are accepted on the basis that you understand and accept these booking conditions.

Capitol Lounge is an over 20s venue, ID may be required.

For food safety reasons we are unable to store or handle Birthday Cakes brought onto the premises.

We do not allow decorations or banners of any kind, a couple of balloons is no problem but we do not allow large balloon displays.

Payment in full is required to reserve any Table or Party Package. A payment link will be emailed to you once the booking is accepted, this must be paid within 24 hours to secure the booking. We offer a full refund for cancellations up to 7 days prior to a booking and 50% refund for cancellations from 7 days to 48 hours. No refund is made for cancellations within 48 hours.

Reservations are held for 10 minutes after the agreed arrival time, after this time tables may be released to other customers without notice and the booking is deemed a 'no-show' and cancelled, with no refund. Calling or emailing to say you are running late on the night will have no effect on this condition.

Tables must be booked for the correct number of people, we cannot seat smaller groups at large tables. Admission may be refused if you arrive with a smaller group than your reservation was confirmed for. Please note large reservations may include standing room.

Table or Guest List reservations do not guarantee admission, normal door policy applies at all times and the decision of the Manger on duty is final. In the event of a refusal of admission it is our policy not to enter into any discussion on the night, if a refusal is made to a Table or Party Package booking which has been paid for a refund will be issued at the discretion of the Manager, refunds may take 3-5 working days to process.

Opening Hours 
Open Late 7 days
Strictly over 20s, ID may be required.